Steve's AYBS Portraits
Steve Lilly is an artist on a mission! He's been drawing portraits of famous British comedy acts. He's inspired by his relationships with such comedy organizations including the Dad's Army Museum, The Laurel and Hardy museum, the On The Buses Fan club, Tony Hancock Appreciation Society and the Birmingham Comedy Festival.
Steve is taking on new and special project...of course, it's Are You Being Served?-related. And I'm honored to have been chosen by Steve to feature his work!
Most recent update: 21 September 2014
It's finished! :) If you wish to purchase Steve's artwork, visit his website.
(click on picture for larger image in new window)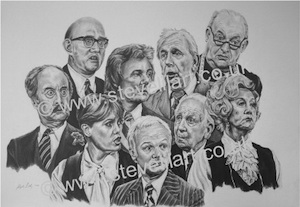 Earlier updates (will open in a new window): 1 September 2014
6 August 2014
30 July 2014
Bookmark this page to check on the latest progress that Steve has made on his AYBS portrait...and maybe on some other works as well!
Also, visit Steve's website to see some of his other work, as well as find out how you can purchase his artwork for your own collections.